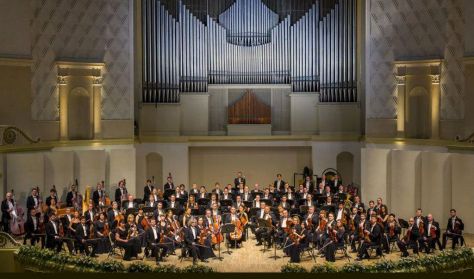 Russian State Symphony Orchestra
Saturday, February 8th, 2020 @ 7:30 PM | Reserved seating: $40.00
Nincs aktuális előadás
Ön egy múltbeli eseményre keresett rá. Kérjük, válogasson aktuális kínálatunkból a Jegy.hu keresőjében!
Last event date: Saturday, February 08 2020 7:30PM
The Russian State Symphony Orchestra was founded in 1957 within the All-Union Broadcasting System. The orchestra's first music director was Samosud. Later, such renown conductors as Aranovich, Shostakovich, and Rozhdestvensky were among the orchestra's artistic directors until the early 90s when Maestro Polyansky took over the position of the artistic director and chief conductor.
At that time, the orchestra was known as the State Symphony Capella of Russia, the organization that also included a very well internationally recognized choral entity – the State Capella of Russia. The merger of these two independently run music organizations always fascinated Maestro Polyansky. It was up to him how to choose the right repertoire for both the orchestra and the choir, something he has been doing very successfully for several decades.
The States Symphony Capella of Russia, also known as the Russian State Symphony Orchestra, ranks among the finest Russian symphony orchestras of the 21 st century. The Orchestra is a frequent visitor of numerous international festivals in European countries and the Far East. Their recent tours have taken place in Great Britain, Switzerland, Germany, Italy, Croatia, South Korea and Taiwan. One of the music critics of "The Star" in Great Britain wrote: "While listening to the music conducted by Maestro Polyansky, one starts thinking whether there is a limit to perfection". "The Symphonies by Tchaikovsky and Rachmaninoff performed by the orchestra became a model of the highly respected tradition of interpretation and performance", – Corriere Della Sera of Italy noted.
The Russian State Symphony Orchestra concerts mark strict performing discipline, flexibility of phrasing, rich and warm sound, nobility of expression, and skillfully balanced sound of orchestral groups. Another aspect marked in reviews is a close creative unity and mutual understanding between the orchestra and conductor, making it possible to realize most interesting and sophisticated artistic concepts. The orchestra's upcoming seasons will feature major international tours to Japan, and the United States.
***************************************
Valery Polyansky was born in 1949 in Moscow. When he graduated from a musical college, young Polyansky was accepted into the Moscow Conservatory to study choral conducting with Professor Kulikov. At that time, Polyansky's conducting interests went far beyond his basic specialty. He was always very fascinated by both sounds of a chorus, as well as orchestra. He decided to undertake the studies of choral conducting together with symphonic conducting. His conducting teacher was a well-known musician, O. Dimitriadi. And later, Polyansky was fortunate to meet Maestro Gennady Rozhdestvensky, who became not only his teacher, but a very close friend. "By the way, we've always been on good terms ever since", Valery Polyansky used to say in his interviews.
While being a student, Valeri Polyansky works in the Operetta Theatre, where he conducts the hole main repertoire. In 1977 he is invited as a conductor to Bolshoi Theatre, where together with Gennady Rozhdestvensky he participates in the production of Shostakovich's opera "Katerina Izmailova", he also leads other performances. At the head of the State Chamber Choir, Valeri Polyansky at the same time productively works with the leading symphonic collectives here and abroad. He had heterogeneous performances with orchestras of Belarus, Iceland, Finland, Taiwan, Turkey, Germany, Holland… He realized the production of I.P. Tchaikovsky's opera "Eugene Onegin" at the Gotheuburg Musical Theatre (Sweden). During several years he was a chief conductor of the "Opera Nights" festival in Gotheuborg. Since 1992 he is a chief conductor and artistic director of the State Symphony Capella of Russia which consists of symphonic orchestra and a choir, numbering more than 200 artists.
According to media, Polyansky in his creative practice shows a rare example of musician who combines skillful technique of choral and symphonic conducting, which allows him to guide enormous musical bodies of various compositions.
As for Polyansky's work capacity, one can only make legends about it. His everyday working schedule looks approximately like this: first half of the day is dedicated to work with the Orchestra, second to the Choir and soloists; meanwhile, he somehow finds time to learn new scores, and to broaden his own professional outlook. "Bright, extremely artistic musician, flawless professional, fine and distinctive interpreter" – that is Polyansky's description of well-known music and art critic M. Ryzarev. And no exaggeration in these words… In repertoire of the Capella headed by Polyansky there are works of different stylistic trends and currents in world musical art. Baroque, classics, Romanticism, Impressionism, compositions of modern authors of our century – all these is somehow or other represented in the Capella's programs. And in all cases, as music critics emphasize, musicians led by Polyansky succeed in achieving accuracy and clearness of style, they remain faithful to the spirit and letter of the composition they perform.
"People ask me sometimes what principals I'm guided with drawing up our programs", says Polyansky. "First of all the only principle is: I should like the music I perform, I should really love it. Artists of the Choir and Orchestra I'm working with perform with pleasure works of classics – Haydn, Mozart, Beethoven. I'm sure it is absolutely needed to develop taste, mastery and high culture of performing. Classical music is a kind of artistic "tuning fork", which should tune up all modern musicians. Meanwhile, it is absolutely necessary that the Orchestra and the Choir perform compositions of Schubert and Dvorak, Brahms and Mahler, Tchaikovsky and Rachmaninoff, Prokofiev and Schostakovich, Schnittke… We're living in the world full of the most different emotional colors, moods, feelings, opposition of passions… All this is one way or another reflected in the rich treasury of world music, all should be presented on the modern scene".
Polyansky has made a great number of musical recordings with the leading sound recording firms here in Russia and abroad. Among them are compositions of Tchaikovsky, Taneyev, Glazunov, Skryabin, Bruckner, Dvorak, Reger, Prokofiev, Schostakovich and many others. It's difficult to give a priority to something in the spread discography of Polyansky and of the Russian State Symphony of Russia. Polyansky has also recorded all symphonic and choral compositions of Rachmaninoff, and the 8 th Symphony of A. Schnittke, issued by English firm Chandos Records in 2001. That recording was recognized as the "Best recording of the year". The sound recording art is a special art. Far from all artists, even those successfully showing their worth on the concert scene, fully own it. Not all performers are self-confident in the atmosphere of the studio. Valeri Polyansky is a universal artist in this respect. That is why the CDs widely spread all over the world.
Warning! The basket time limit is about to expire!
estimated time left:
00:00
Time limit has expired. Please, put item(s) in to basket again.
---